Demonstrations & Classes Available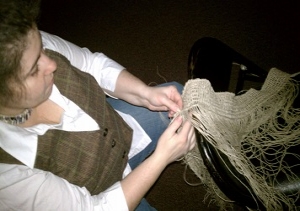 Twining Demonstration
Join Vera as she tells how her ancestors twined and learned how to prepare the cordage from wild plants as a child. She also demonstrates the various ties that are used to make twined fabric. (Photograph Courtesy of Lina Longtoe Schulmeisters)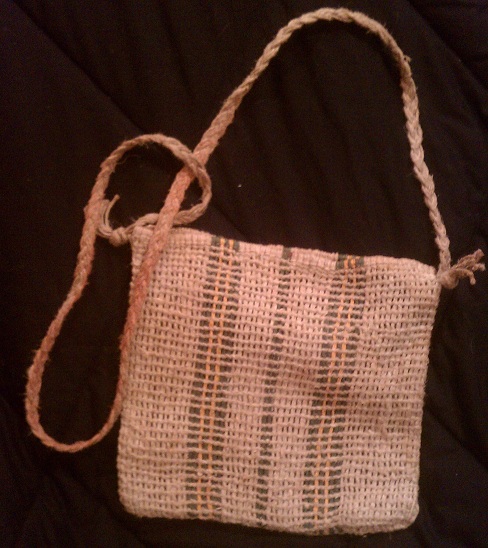 Introduction to Twining
In this beginner level class, learn to twine by making a small project, such as a bookmark or bracelet. These skills can then be applied toward making a belt or strap.
Learn to Twine a Bag
Learn to twine a bag from plant fibers. Several twining techniques will be taught. It is strongly suggested that this workshop be done in more than one session.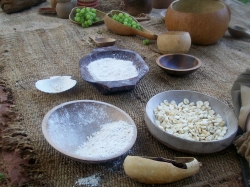 Eastern Woodland Cooking Class
Learn how to prepare a traditional Abenaki meal. During this workshop your group will: gather firewood, start a fire, pound corn, prepare and mix ingredients which you will cook outdoors, over a open fire. Afterward, relax and feast on the fruits of your labor. This is not a kosher or vegetarian meal. (Photograph Courtesy of Lina Longtoe Schulmeisters)
Native American Beading Class
Participants will learn two beading techniques used by the 18th and 19th century Eastern Woodland Indians. You will create either a 4" x 5" pouch (that can be used to hold a cell phone, IDs credit cards, or money) or a case for your eyeglasses.
Sew an Abenaki Hood
In the 18th and 19th centuries, Abenaki women were easily identified by the"peeked hoods" they wore. During this class you will be provided with the wool and silk ribbon instruction to create your own Abenaki style hood. You will cut out your pattern, sew the hood together and start edging it with silk ribbon.
Email Vera at vlongtoe@vtindigenous.com