Twined Bags & Baskets
Twined baskets, bags and containers pre-date the ash splint baskets that the Wabanaki people are known for. It is the oldest method of basket-making known in the North Eastern United States. Native American women gathered and processed plants to make baskets, bags and containers. Twining is very well documented in the 17th & 18th centuries. By the 19th century, the trail of tangible evidence of Wabanaki twining in the far North East went dry, giving scholars the impression that twined bags and basket-making were given up long ago. However, it was never lost in her family.
Vera harvesting milkweed for making twined bags & Baskets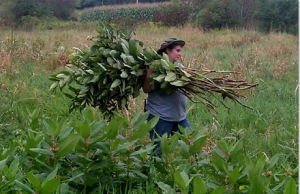 About the Artist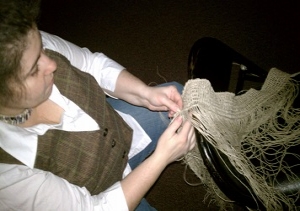 Vera Longtoe Sheehan is a master artist, educator and activist who serves the community as Director of the Vermont Abenaki Artists Association, a multi-arts services organization. Her BA in Museum Studies and Native American Studies (MA candidate in Heritage Preservation) from SUNY Empire State allows her to bridge the gap between the Abenaki community and the mainstream world by creating museum exhibitions, educational programs, and events that promote the vibrancy of Abenaki culture and she provides consulting services to museums. Her extensive research of archaeology and other primary resources relating to Abenaki textiles and clothing in Wabanaki territory informs her textile-making process.

As a child, she started learning about fiber arts, and she continued to follow in her ancestors' footsteps. She makes twined bags, twined baskets, and twined textiles from both hand-rolled and commercially rolled plant fiber cordage. Each of her twined pieces is ancient and contemporary at the same time. Depending on size, it can take hours, days, weeks, or even months to complete. They are environmentally friendly and made from plants, which are quick-growing renewable resources.

Vera offers educational programs on Native American culture, traditions, and crafts, which are appropriate for audiences of all ages. She has been doing lectures and demonstrations at tribal events, schools, museums, and historic sites for over twenty years. These locations include the American Museum of Natural History, Ft. Ticonderoga, Lake Champlain Maritime Museum, and the Echo Lake Aquarium & Science Center. She has also presented at conferences for organizations such as the Society for Anthropology in Community Colleges and Vermont Alliance for Social Studies.

Vera is an enrolled citizen of the Elnu Abenaki Tribe and a member of the Woodland Confederacy, the Textile Society of America, and New England Museum Association.



Email Vera at vlongtoe@vtindigenous.com


*The Elnu Abenaki Tribe is recognized by the State of Vermont as a Native American Tribe (Refer to Sec 1.1 V.S.A.§ 853a).