Native American Twined Bags & Baskets
Wabanaki women (Abenaki, Mi'kmaq, Maliseet, Passamaquoddy and Penobscot) have been making plant fiber bags and baskets for thousands of years. Evidence of these twined textiles can be found in archaeologic sites in New England, Quebec and Nova Scotia. Although the soil in the northeast isn't generally hospitable towards perishables, the greatest concentration of twined fragments has been discovered in Vermont. Additional surviving pieces from the 17 and 18th centuries have been preserved in collections in Maine, New Hampshire and New York.

Vera harvesting milkweed for making twined bags & Baskets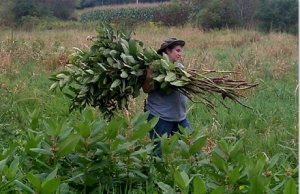 About the Artist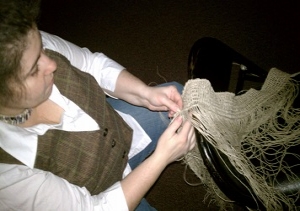 Since time immemorial, native woman passed the family traditions of how to gather and process plants to weave baskets, bags and containers. Fiber artist, Vera Longtoe Sheehan follows in the footsteps of her ancestors. She first started learning to weave as a child from her father. She makes twined bags, twined baskets and twined textiles from both hand rolled and commercially rolled plant fiber cordage. Each of her twined items is hand made. Depending on size, it can take hours, days, weeks or even months to complete. They are environmentally friendly, made from plants, which are quick growing, renewable resources.

As a master artist Vera offers apprenticeships to ensure this endangered art form continues.

She also combines her knowledge of oral family traditions and 25 years research of Wabanaki history to design programs for audiences of all age. She offers several classes and programs, on Native American culture, traditions. She has been doing lectures and demonstrations at tribal events, schools, museums and historic sites for over twenty years. Some of these locations are the American Museum of Natural History, Ft Ticonderoga, Lake Champlain Maritime Museum and Echo Lake Aquarium & Science Center.
She is a citizen of the
Elnu Abenaki Tribe
,
member of the Woodland Confederacy (a living history organization), the Vermont Abenaki Artists Association and the Northeast Indigenous Arts Alliance.

Vera and some of her hand made items have appeared in the following documentaries and a historical fiction films: Before the Lake was Champlain, 1609: The Otherside of History and Changeling (AKA Dawnland).

Please see the Exhibits page for items currently on exhibit.
Email Vera at vlongtoe@vtindigenous.com
*The Elnu Abenaki Tribe is recognized by the State of Vermont as a Native American Tribe (Refer to Sec 1.1 V.S.A.§ 853a). Verification can be made by contacting the Tribal Headquarters.
*Each piece is labeled in accordance with the Indian Arts and Crafts Law*